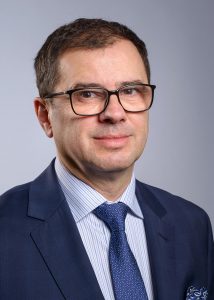 dr hab. Tomasz Kownacki – Ph.D. with habilitation in the field of political science (2014). Researcher and lecturer at the Faculty of Political Science and International Studies of the University of Warsaw. Graduate of the Institute of Political Science, Faculty of Journalism and Political Science, University of Warsaw (1995) and Postgraduate Studies on Management of European Union Funds at the Warsaw School of Economics (2008); Graduate of the "The Tools of Marketing" program at the Institute of Journalism of the University of Warsaw in cooperation with the Canadian International Development Agency, George Brown College and Centennial College in Toronto (1995); Scholar of the Tempus program at the Universite Libre in Brussels (1997), doctor of humanities in the field of political science (2003). Member of the Board of the Polish Political Science Association (2013-2019). Associate of MSCDN in Warsaw. From 2019, Chairman of the Regional Committee of the Knowledge Olympiad about Poland and the Modern World.
Research interests
Integration processes in Europe, the political system of the European Union, problems of democracy and legitimacy, international cooperation in matters of internal security, contemporary social movements.
Unit
Department of European Union Law and Institutions
Recent publications:
T. Kownacki, Parlament Europejski jako przedmiot badań naukowych, [w:] Podsumowanie VIII kadencji Parlamentu Europejskiego. Wyzwania integracji europejskiej w latach 2014-2019, (red.) A. Nitszke, J. J. Węc, Kraków, 2019, s. 331-344.
T. Kownacki (red.), Wybrane systemy współpracy międzynarodowej w zapewnieniu bezpieczeństwa wewnętrznego państwa, Warszawa, 2019.
T. Kownacki, Funkcjonowanie systemu politycznego z perspektywy demokracji liberalnej, [w:] Zmierzch demokracji liberalnej?, (red.) K. A.Wojtaszczyk, P. Stawarz, J. Wiśniewska-Grzelak, Warszawa, 2018, s. 195-216.