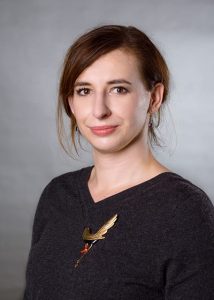 dr Barbara Kratiuk – Ph.D., graduate of the Institute of International Relations at the Faculty of Journalism and Political Science (2010) in the study of the Far East. She has been a fellow at the Albert Ludwig University of Freiburg, and also studied at the London School of Economics, Department of International History. She has been a Ph.D. student at the Faculty of Journalism and Political Science at the University of Warsaw, and has given lectures at the Kyungpook National University (South Korea), International Christian University (Japan), and Calcutta University (India). She has been involved in the Faculty's efforts for international cooperation, coordinating Eurasian Insights: Strengthening Indo-Pacific Studies, a project under the EU's Educational Strategic Partnership.
 Research interests
Colonial policy of superpowers, Vietnamese foreign policy, South-East Asia, distribution of power in international relations.
Unit
Department of Regional and Global Studies
Recent publications:
B. Kratiuk, Vietnam as a dominant power in Southeast Asia, [w:] ICAS: Proceedings of Second International Conference on Asian Studies, Colombo, 2015.
B. Kratiuk, The 'return' of USA to Asia: Obama's pivot and American Soft Power, [w:] Prawo i Polityka na Wschód Europy, (red.) J. Marszałek-Kawa, P. Wawrzyński, Toruń, 2014.
B. Kratiuk, Polskie zaangażowanie w Afryce. Ambasador Lewandowski w ONZ a sprawa Konga, "Stosunki Międzynarodowe – International Relations", 2016 nr 52(2), s. 367-382.