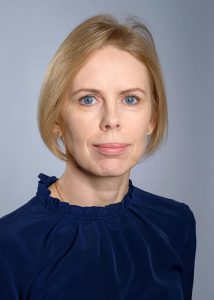 dr hab. Anna Wierzchowska – Ph.D., researcher and lecturer at the Faculty of Political Science and International Studies of the University of Warsaw at the Department of Law and Institutions of the European Union; from 2000, scientific secretary of the Political Science Committee of the Polish Academy of Sciences ("PAN"); from 2012 also a specialist member of KNP PAN (Committee of Pedagogical Sciences); member of the editorial board of Przegląd Europejski; participant in the exchange of academic teachers under the Erasmus Program and lecturer during training for candidates for EU-EPSO officials; she gave lectures at national and international conferences, including in Nicosia; contractor and co-contractor of research projects of the Ministry of Science and Higher Education; as part of promoting knowledge in the field of political science, she gave lectures for the Warsaw Center for Educational and Social Innovations and Trainings and for the MCDN (Lesser Poland Teacher Training Center).
Research interests
The process of European integration, including research on the institutional system of the EU; contemporary democracy and its dilemmas.
Teaching
European law; introduction to European law, processes of European integration in Europe; Institutions of the European Union, theory and practice of European democracy; she also conducts classes in English.
Unit
Department of European Union Law and Institutions
Recent publications:
A. Wierzchowska, Wpływ modernizacji i kryzysu na dynamikę zmiany w Unii Europejskiej, Warszawa, 2016.
A. Wierzchowska, Democracy in the postnational world, [w:] The Processes of Transnational Governance, (red.) A. Rothert, Warszawa, 2014, s. 36-49.
A. Wierzchowska, Działania i stanowiska Parlamentu Europejskiego VIII kadencji wobec kwestii ustrojowych UE, [w:] Podsumowanie VIII kadencji Parlamentu Europejskiego. Wyzwania integracji europejskiej w latach 2014-2019, (red.) A. Nitszke, J. Węc, Kraków, 2019, s. 37-58.