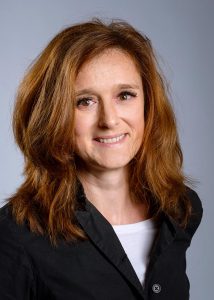 dr Małgorzata Kaczorowska – Ph.D. of political science (2008; dissertation entitled "Devolution in Great Britain. Political Science Study" defended at Faculty of Political Science and International Studies, University of Warsaw), researcher and lecturer at the Faculty of Political Sciences and International Studies of the University of Warsaw, in 2016-2019 member of the Scientific Council of the Institute of Political Sciences of the University of Warsaw. In the years 2013-2019 she was a representative for student internships for political science. In 2015-2018, secretary of the Management Board of the Polish Society of Political Sciences, Warsaw Branch, and since 2018 its vice-president. Since 2016, a member of the Board of the Scientific Committee No. 34 "Quality of Democracy", and since 2018, a member of the Board of the Scientific Committee No. 23 "Elections, Citizens and Parties" of the International Political Science Society (IPSA). Member of the Polish European Community Studies Association. Member of the expert team of the online magazine entitled "e-Politikon", as part of the Centre for Political Analysis (OAP). Contractor of Polish and international research projects, including: OPUS 14, entitled "Election failure as a catalyst for change in European political parties," financed by the National Science Centre. In 2009, co-founder of the British Socio-Political Studies Research Group Britannia. Member of the Interinstitutional Laboratory of Swiss Studies at the Faculty of Modern Languages at the University of Warsaw. Participant of national and international scientific conferences, scientific symposium. She lectured, among others in: Barcelona, Bologna, York, Southampton, Bucharest, Prague, Malta.
Research interests
Political parties; party systems; internal party democracy; elections and electoral systems; political systems of modern States; the political system of the United Kingdom of Great Britain and Northern Ireland.
Unit
Department of Political Systems
Recent publications:
M. Kaczorowska, Kobiety a demokracja wewnątrzpartyjna w polskich partiach politycznych. Wzbierająca fala czy jej zapowiedź?, [w:] Kobiety w polityce. Szkice i rozprawy, (red.) J. G. Otto, Warszawa, 2019, s. 88-139.
M. Kaczorowska, Ożywienie Szkockiej Partii Narodowej po przegranym referendum niepodległościowym w Szkocji, [w:] Anatomia porażki wyborczej, (red.) A. Pacześniak, Warszawa, 2018, s. 223-246.
M. Kaczorowska, Etyka w wybranych partiach i stowarzyszeniach politycznych w Polsce, [w:] Etyka w sferze publicznej, (red.) J. Itrich-Drabarek, Warszawa, 2017, s. 117-140.