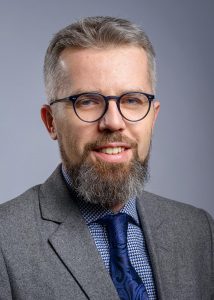 dr hab. Filip Pierzchalski – Ph.D. of Humanities in the field of Political Science (2008), Habilitation in Social Sciences in the field of Political Science, specialisation: political theory, methodology of political science research (2014). Since 2009, Member of the Polish Political Science Association. Since 2017, Member of the Scientific Council of the scientific journal "Teoria Polityki".
Research interests
Political theory; contemporary structures of political science insight; aestheticisation of politics; semiotics of politics; feminist criticism.
Unit
Department of Political Theory and Political Thought
Recent publications:
F. Pierzchalski, Politolog na rozdrożu: między opium kapitalistycznych filistrów a postawą krytyczną, [w:]  Uniwersytet i nauka o polityce. Sprawdziany tożsamości, M. Karwat, F. Pierzchalski (red.), Oficyna Wydawnicza ASPRA-JR, Warszawa 2022, s. 221-240.
Constituents of Political Theory. Selected Articles of the Warsaw School of Political Theory, M. Karwat, F. Pierzchalski, M. Tobiasz (ed.), Peter Lang, Berlin 2021, ss.322.
F. Pierzchalski, Class Resentment and Leadership: Manipulation of Negative Emotions in Political Leadership Practices, "Politeja", Vol. 17, No. 5(68), Kraków 2020, s. 63-82