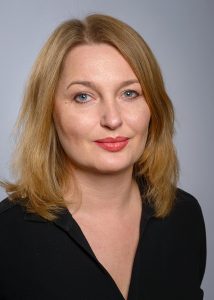 dr hab. Anna Sroka, prof. ucz. – Doctor of Political Science (2006) with a habilitation in Social Science (2015), member of research and teaching staff at the Faculty of Political Science and International Studies, University of Warsaw, Head of Internal Security, 1st degree (since 2016) and 2nd degree (since 2017). Member of the ECPR Executive Council since 2015. Chair of the IPSA "Quality of Democracy" scientific committee since 2018. Chair of the Polish-Spanish Scientific Research Network since 2019. She has participated in various domestic and international research projects. Lecturer at the Antonio de Nebrija University and the National Distance Education University in Madrid (UNED). Scholarship holder of programmes, among others, of: Free University of Berlin, Autonomous University of Madrid, University of Trieste.
Unit
Department of Internal Security
Recent publications:
A. Sroka, M. Zerkowska-Balas, The influence of corruption scandals on government accountability, "Political Preferences", 2019 nr 24, s. 45-56.
A. Sroka, K. Trofimowicz-Kalinowska, Zagadnienia radykalizmu politycznego i terroryzmu w starategiach bezpieczeństwa Polski i Hiszpanii po 2001 r., "Studia Politologiczne", 2018 nr 49, s. 156-179.
A. Sroka, Accountability and democracy in Poland and Spain, Frankfurt, 2017.