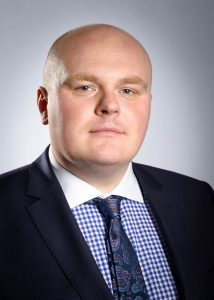 dr hab. Rafał Ulatowski – assistant professor at the Faculty of Political Science and International Studies/ University of Warsaw. He earned his Ph.D. at the University of Bonn in 2011, funded by a Konrad Adenauer Foundation Scholarship. He has delivered guest lectures at the University of Konstanz, Tsinghua University and Kyungpook National University, etc. He was awarded scholarships of the Konrad Adenauer Foundation (2007-2001), the DAAD (2013 and 2014/2015), the German Institute of Polish Culture (2015) and the French government (2015).
Research interests
International Political Economy, Energy markets, German foreign policy.
Unit
Department of Regional and Global Studies
Recent publications:
R. Ulatowski, OPEC+ as a new governor in Global Energy Governance, Revista Unisci, 2020, No. 53, pp. 241-263.
R. Ulatowski, Energy Policy in the Context of the EU's Eastern Policy. In: Hilz W., Minasyan S., Raś M. (eds) Ambiguities of Europe's Eastern Neighbourhood. Springer VS, Wiesbaden, 2020, pp. 93-107.
R. Ulatowski, The Role of the Education Sector in Relations Between Poland and Germany, 1991–2016, in: Karina Paulina Marczuk (ed.), Good Neighbourhood Treaties of Poland. Political, Security and Social Relations, Palgrave Macmillan, 2019, pp. 75-91.