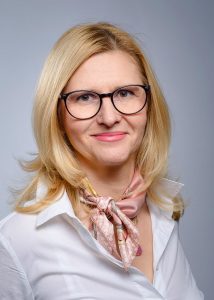 dr hab. Izolda Bokszczanin-Gołaś – Ph.D. in Political Sciences (2002), habilitation (2020), research and didactic worker at the Faculty of Political Science and International Studies of the University of Warsaw (associate professor). Scholarship holder of the government of the French Republic (in 2011 at the Institut d'Etudes Politiques – Lyon, Institut d'Etudes Politiques – Aix-en-Provence, in 2010 at the Institut d'Etudes Politiques – Lille), the government of the Italian Republic (in 2002 at the Universita di Bologna, Universita di Padova), University of Geneva (in 2006), University of Padova (in 2001). She conducted lectures and seminars for Ph.D. students as part of LLP-Erasmus at the Baltic International Academy in Riga (in 2014, in 2013). Member of scientific organizations: Polish Society of Political Sciences (Public Policy Section), International Political Sciences Association – IPSA, European Consortium for Political Research – ECPR (research groups: Southern European Politics, Local Government, Democratic Innovation), the French science network "Democracy and Participation" ("Démocratie et Participaton" Paris); Political Studies Association –PSA (Italian Politics Group); vice-president of the Association France-Pologne, Association of French-speaking Studies Graduates in Poland (since 1995). Participant of national and international scientific projects. Member of the editorial office "E-Politikon. The Quarterly of the Centre for Political Analysis of the University of Warsaw." Scientific reviewer of journals: "Reflexions. Scientific journal of students and doctoral students of the Faculty of Political Sciences and Journalism of the Adam Mickiewicz University", (in 2015); "Przegląd Europejski [European review]" (In 2017, 2018), 
"Quarterly of the Socio-Economic College: Works and Studies" (In 2018). Participant of numerous international and national scientific conferences (with a paper) among others, in Turin, Lecce, Hong Kong, Canton, Prague, Riga, Innsbruck.
Research interests
Political systems of European countries (especially Italy and France); local democracy; institutions of direct democracy; institutions of executive power; territorial state structures; public administration of European countries
Unit
Department of Political Systems
Recent publications:
I. Bokszczanin, Paradoksy instytucjonalizacji (post)partii politycznej – casus Ruchu 5 Gwiazd, [w:] Polska i Europa w perspektywie politologicznej. Księga jubileuszowa dedykowana profesorowi Konstantemu Adamowi Wojtaszczykowi z okazji 45-lecia pracy, Tom 1-2, (red.) J. Wojnicki, J. Miecznikowska, Ł. Zamęcki, Warszawa, Oficyna Wydawnicza Aspra-JR, 2020, s. 47-72.
I. Bokszczanin, Koncepcja hybrydyzacji w badaniach politologicznych nad zmianami demokracji lokalnej, [w:] Polityka publiczna i jej wymiary. Jubileusz 70-lecia prof. dra hab. Joachima Osińskiego, (red.) I. Zawiślińska, B. Pytlik, Oficyna Wydawnicza SGH Warszawa, 2020, s. 71-100.
I. Bokszczanin, Hybrydyzacja demokracji lokalnej w państwach Europy Południowej (Francja, Hiszpania, Włochy), Elipsa, Warszawa 2019.