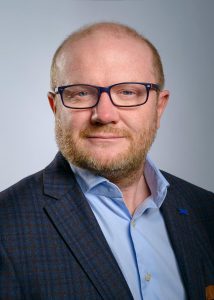 dr hab. Maciej Duszczyk, prof. ucz. – Vice-Rector for Research, University of Warsaw, Member of the Board of Centre of Migration Research. In 2008-2011 – Member of the Board of Strategic Advisers to the Prime Minister of Poland. In 2011-2013 – Head of Task Force for Migration Policy in the Chancellery of the President of Poland. In 2014-2015 Visiting Professor in the Martin Luther University of Halle-Wittenberg and Friedrich Schiller University of Jena. Member of the Transatlantic Forum on Migration and Integration.
Unit
Department of Labor System and Labor Market
Recent publications:
M. Duszczyk, M. Pachocka, D. Pszczółkowska (red.), Relations between Immigration and Integration Policies in Europe: Challenges, Opportunities and Perspectives in Selected EU Member States, London – New York, 2020.
M. Duszczyk, K. Podgórska, D. Pszczółkowska, From mandatory to voluntary. Impact of V4 on the EU relocation scheme, "European Politics and Society", 2019, s. 1-18.
M. Duszczyk (red.), Why Do People Migrate?, Labour Market Security and Migration Decisions, Wielka Brytania – Bingley, 2019.