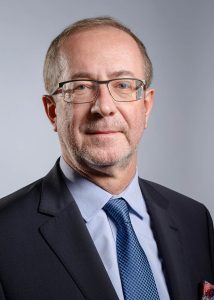 prof. dr hab. Jan Garlicki – Ph.D. in Political Science (1988), Habilitation (1996), Professor at UW (1999), received the title of Professor of Humanities in Political Science in 2008; Full Professor (2015), Head of the Department of Sociology and Psychology of Politics at INP UW (from 2004-2019), Head of the Department of Sociology of Politics and Political Marketing at the Faculty of Political Science and International Studies, UW (from 2019), Member of ESOMAR, PTS and ISA. Founding member, former president (1999-2003) and honorary member of the Polish Association of Market and Opinion Researchers (PTBRiO). CEO and founder of CBM INDICATOR. Since 2012, member of the Paweł Stępka Award Chapter for doctoral theses and publications concerning electronic media, established by the National Broadcasting Council and the Faculty of Journalism and Political Science of the University of Warsaw.
Research interests
Sociology of politics, issues of political culture, political participation, transformations in the political awareness of Poles, the impact of systemic transformation on the awareness, attitudes and behaviour of youth, political and electoral marketing.
Unit
Department of Political Sociology and Political Marketing
Recent publications:
J. Garlicki, Kultura polityczna, [w:] Społeczeństwo i polityka Podstawy nauk politycznych Tom 1 część 1. Teoria, instytucje, procesy. Zagadnienia podstawowe, (red.) S. Sulowski, K. Wojtaszczyk, W. Jakubowski, Warszawa, 2018, s. 195-215.
J. Garlicki, Komunikowanie polityczne i publiczne a marketing polityczny, [w:] Nauki o mediach i komunikacji społecznej. Krystalizacja dyscypliny w Polsce. Tradycje, nurty, problemy, rezultaty, (red.) A. Adamski, S. Gawroński, M. Szewczyk, Warszawa – Rzeszów, 2017, s. 93-101.
J. Garlicki, Badania reprezentatywne, [w:] Encyklopedia Politologii, tom I, Pojęcia, teorie i metody, (red.) W. Sokół, M. Żmigrodzki, Warszawa, 2016.