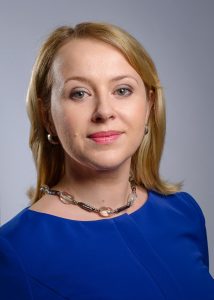 dr hab. Aleksandra Gasztold, prof. ucz. – Doctor of Political Science (2009) with habilitation in Political Science (2018), member of research and teaching staff at the Faculty of Political Science and International Studies, University of Warsaw. She conducts research on terrorism and intelligence using critical theories. She has received scholarships from, among others, the University of Konstanz (2007, 2010, 2015, 2016), the Johannes Gutenberg University in Mainz (2008), Indiana University in Bloomington (2013) and the University of Vienna (2015). Social expert of the Government Centre for Security (RCB) and the Centre for Political Analysis of the University of Warsaw (OAP UW). Member of the Steering Committee of Women in International Security Poland (WIIS Poland) since 2018.
Research interests
Terrorism research, radicalisation research, intelligence studies, German foreign and security policy.
Unit
Department of Internal Security
Recent publications:
A.Gasztold, Beyond or In the Midst of the Masculinized Intelligence Community in Poland, "International Journal of Intelligence and Counterintelligence" (online May 10, 2022)
A. Gasztold, Feminist Perspectives on Terrorism: Critical Approaches to Security Studies, Springer, Cham 2020.
 A.Gasztold & P. Gasztold The Polish Counterterrorism System and Hybrid Warfare Threats, "Terrorism and Political Violence", June 2020.
A. Gasztold, US Influence on German-Polish Cooperation in the Field of Eastern Policy, in: W. Hilz, Sh. Minasyan, M. Raś (eds.),  Ambiguities of Europe's Eastern Neighbourhood: Perspectives from Germany and Poland, Springer VS, Wiesbaden 2020, pp.  125-139.