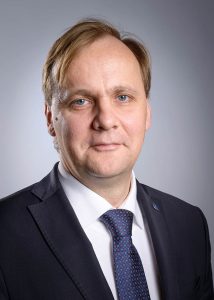 dr hab. Paweł Hut – Research and didactic worker at the Faculty of Political Science and International Studies of the University of Warsaw. In the years 2006-2010, the Dean's representative for material aid. In 2008-2012, the head of the Daily Social Policy Study. Participant of national and international scientific projects. Member of the program councils of national and international conferences. Expert of the Sejm committees of the Republic of Poland and representative in the Government Population Council. Member of the 2nd, 3rd and 4th term of the Refugee Board. Member of the Museum Council of the Polish Army Museum. Member of the Polish Advisory Committee. Member of the management board of the International Centre for Migration Development in Vienna. Director of the Department of Education, Culture and Heritage of the Ministry of National Defense.
Research interests
Population processes in the contemporary world, including the issues of migration, repatriation and refugee; shaping the migration law in Europe. History of social policy – the inter-war period and the People's Republic of Poland. Associations of nation states and foreign compatriots. Ethnic relations in Central and Eastern Europe.
Unit
Department of Labor System and Labor Market
Recent publications:
P. Hut, Relations of Polish Authorities with the Polish Diaspora in the (Post)-Soviet Space, [w:] Good Neighbourhood Treaties of Poland, (red.) K. Marczuk, Warszawa, 2019, s. 163-177.
P. Hut, Współczesna kwestia mieszkaniowa w Polsce – geneza, uwarunkowania, perspektywy rozwiązań, [w:] Polityka społeczna, (red.) G. Firlit-Fesnak, J. Męcina, Warszawa, 2018, s. 255-267.
P. Hut, Migracje zagraniczne, [w:] Sytuacja Demograficzna Polski Raport 2016-2017, (red.) A. Potrykowska, Warszawa, 2017, s. 147-169.