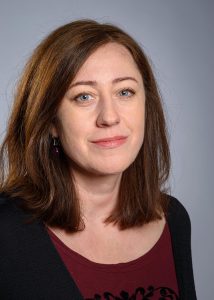 dr hab. Emilia Jaroszewska – Ph.D. of social sciences in the discipline of political science (2014); Research and didactic worker at the Faculty of Political Science and International Studies at the University of Warsaw (since 2003); Head of Postgraduate Studies, Rehabilitation Management Specialist, Training Manager Organizing Social Assistance at the University of Warsaw; Previously: the thematic editor of the periodical Studia – Politica Germanica (2012-2018) published by Politologiczna Pracownia Studiów nad Niemcami Faculty of Journalism and Political Science of the University of Warsaw, IPS-UW Plenipotentiary for Promotion (2016-2019) IPS-UW Coordinator for the LLP-Erasmus programme (2007-2014), coordinator of cooperation between IPS UW and German universities.
Research interests
interpersonal communication, migrations, cultural differences, social pathologies
Unit
Recent publications:
E. Jaroszewska, Bariery w komunikacji, [w:] Kontekst inności w komunikacji interpersonalnej, (red.) E. Krajewska-Kułak, A. Guzowski, Uniwersytet Medyczny w Białymstoku, Białystok, 2019, s. 185-200.
E. Jaroszewska, Migracja jako szczególne wyzwanie w okresie adolescencji, [w:] Polityka migracyjna w obliczu współczesnych wyzwań. Teoria i praktyka, (red.) T. Browarek, H. Chałupczak, M. Lesińska, E. Pogorzała, Lublin, 2018, s. 595-612.
E. Jaroszewska, Trudne dziedzictwo – zmiana percepcji niemieckiej spuścizny na terenie Warmii i Mazur, "Studia Politica Germanica", 2017 nr 1-2(6-7), s. 349-368.