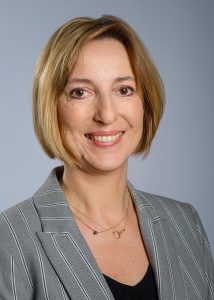 dr hab. Katarzyna Kołodziejczyk – Ph.D. with habilitation in political science (2014), scholar at the Faculty of Political Science and International Studies, University of Warsaw, plenipotentiary of the Dean – Deputy Head for Ph.D. Studies and collaboration with the Doctoral School. She has been affiliated with the Faculty since 1995, and served, among other positions, as Supervisor of Full-Time Second-Cycle Studies in International Relations, Supervisor of Studies in National Security, secretary of the Political Science Committee at the Polish Academy of Sciences, and judge in many editions of the Poland and Contemporary World Knowledge Olympiad. She is also a member of the Polish Society of International Studies.
Research interests
EU economic integration, problems of the economic and monetary union, economical aspects of EU's foreign policy, EU's relations with OACPS countries, EU's development and humanitarian policy, issues of international trade, including the World Trade Organisation, economic globalisation processes.
Unit
Department of Regional and Global Studies
Recent publications:
K. Kołodziejczyk, Polityka zagraniczna Unii Europejskiej w wymiarze ekonomicznym, [w:] Badanie polityki zagranicznej państwa-wymiar europejski, (red.) M. Pietrasiak, J. Ciesielska-Klikowska, S. Kosmynka, Warszawa, 2017, s. 125-136.
K. Kołodziejczyk, Zasadnicze atrybuty polityki rozwojowej Unii Europejskiej, "Stosunki Międzynarodowe – International Relations", 2017 nr 4, s. 157-168.
K. Kołodziejczyk, Stosunki Unii Europejskiej z grupą państw Afryki, Karaibów i Pacyfiku. Stan i perspektywy na przyszłość, "Myśl Ekonomiczna i Polityczna", 2018 nr 2(61), s. 274-291.