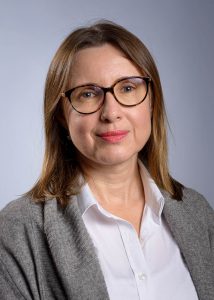 dr Mariola Kordas-Surowiec – psychologist, Ph.D. (2005), trainer, coach, lecturer at the Faculty of Political Sciences and International Studies of the University of Warsaw, member of the Polish Psychological Society. For over 20 years she dealt with the issue of domestic violence, author of publications on this topic. She participated in the development and implementation of many training projects. Current interests concern change management in an organization. Teaching: Social psychology, Work organization and team building, Professional integration and reintegration, Stress and burnout. Subjects conducted in previous years include Violence in the family, Family psychology, Marriage and family in world religions, Protection and promotion of health.
Research interests
Problems of the modern family, aspects related to the development and implementation of changes in the organization.
Unit
Department of Labor System and Labor Market
Recent publications:
M. Kordas-Surowiec, Grupy wsparcia dla osób doświadczających przemocy w rodzinie. Przykład województwa mazowieckiego, Warszawa, 2017.