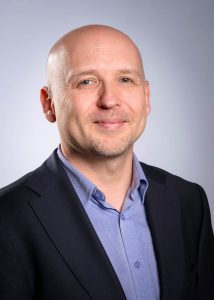 Łukasz Łotocki, PhD – holder of a postdoctoral degree in social sciences in the discipline of political science (2020), PhD in humanities in the field of political science (2008), assistant professor, researcher of migration policy, labour market policy and socio-political communication. Head of the Department of Social Policy and Insurance, head of studies in the fields of social policy and organization of labour market. He has experience in conducting classes at the University of Warsaw and as a guest lecturer at the Warsaw University of Technology. A co-worker and an expert in numerous projects on social policy, labour market policy, international migration and social integration policy, social dimension of revitalisation, social communication, etc. carried out by public institutions, non-governmental organizations and research and training centers.
Research interests
International migration, migration policy, immigration crisis, labour market policy, socio-political communication, public discourse and debate, language of politics and media, persuasion in politics.
Unit
Department of Social Policy and Insurance
Ł. Łotocki, Kryzys imigracyjny w Europie w polskim dyskursie publicznym w latach 2015-2018 (Immigration crisis in Europe in Polish public discourse in 2015-2018), Warszawa, 2019.
Ł. Łotocki, Strategie dyskredytacji oponentów w polskiej debacie politycznej o kryzysie imigracyjnym (Discreditation strategies in the Polish political debate on the immigration crisis), [in:] Migranci i mniejszości jako obcy i swoi w przestrzeni polityczno-społecznej (Migrants and minorities as outsiders and insiders in the political and social space), (ed.) A. Adamczyk, A. Sakson, C. Trosiak, Poznań, 2019, pp. 143-158.
Ł. Łotocki, The Post-Soviet Armenian Immigration to Poland, [w:] Armenians in Post-Socialist Europe, (red.) K. Siekierski, S. Troebst, Köln, 2016.