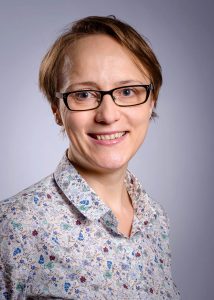 dr Justyna Łukaszewska-Bezulska – Ph.D. in political sciences (2013), assistant professor, secretary of the editorial office of the scientific journal "Problemy Polityki Społecznej" (Social Policy Issues) since 2012, main implementer of the promoter's grant "Labour migration and social capital in cultural borderlands on the example of the Opole and Podlasie region" (grant no. N N114 191140, funded by the National Science Centre, implementation period: 2010-2013), participant in numerous scientific projects on migration processes.
Research interests:
Social capital, labour migrations, migration policy, labour market transformations;
Unit
Recent publications:
J. Łukaszewska-Bezulska, Integration and cooperation in the context of social capital of ethnically diverse local communities in a migration situation, Studia Migracyjne – Przegląd Polonijny, 2021 nr 1.
J. Łukaszewska-Bezulska, The Role of Social Capital in Labour-Related Migrations: the Polish Example, Journal of International Migration and Integration.
J. Łukaszewska-Bezulska, Bon na zasiedlenie – wybrane aspekty prawne i statystyczne, Polityka Społeczna, 2019, nr 1, s. 25–3.