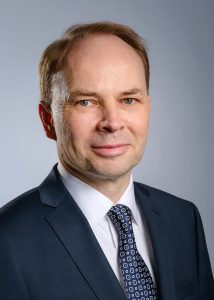 mgr Tomasz Łukaszuk – M.A. in international rstudies (1991). He worked in Polish foreign service for 25 years, serving in Norway, Indonesia, Singapore, East Timor, India, Afghanistan, Bangladesh, Bhutan, Sri Lanka, Nepal and Maldives. His field work experience in diplomacy includes also two years as a deputy director/joint secretary/director general and two years as a director/joint secretary/director general of Asia and the Pacific Department at Polish Ministry of Foreign Affairs. Being director/joint secretary he prepared the concept of Asia and the Pacific Forum aimed at deeper cooperation and coordination of most important scientific and research centers for Asian studies in Poland. He supported Polish universities and think tanks in developing their contacts and links with Asian partners in most important areas vital for the development of their cooperation. He represented Poland at various conferences on maritime issues, environment, Afghanistan, Afghanistan-Pakistan International Contact Group and ASEM preparing several papers and reports. His areas of expertise are integration processes in South and South-East Asia, Indonesian and Indian internal and foreign policy. At present his research interest are regionalism and interregional cooperation of Bay of Bengal countries as well as maritime strategies of biggest littoral countries of Indian Ocean. Member of the International Studies Association and fellow at Global India program of the European Union.
Unit
Department of Regional and Global Studies
Recent publications:
T. Łukaszuk, Stosunki Polski z krajami Azji i Pacyfiku w 2002 roku, 2003.
T. Łukaszuk, Stosunki Polski z krajami Azji i Pacyfiku-1989-2003, [w:] Azja Wschodnia na przełomie XX i XXI wieku. Stosunki międzynarodowe i gospodarcze, (red.) K. Gawlikowski, M. Ławacz, Warszawa, 2004, s. 243-273.
T. Łukaszuk, The Concept of Maritime Governance in International Relations, "Stosunki Międzynarodowe – International Relations", 2018 nr 4, s. 123-144.