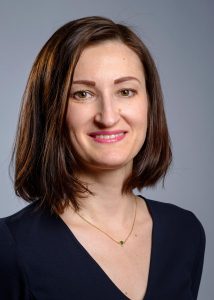 Paula Marcinkowska – Ph.D. in Political Science (2010), Assistant Professor. A graduate of Law and International Relations at the University of Warsaw. In 2013-2017 Coordinator at the UW of the 7th Framework Programme (Marie-Curie) on Post-Soviet Tensions: A Training Programme in Post-Soviet Affairs for Early Career Researchers. Visiting lecturer i.a. at Universita degli Studi di Milano; Ludwig-Maximilians-Universität (Munich), Sciences Po Lyon, Freie Universität Berlin. Panelist at numerous international conferences (ISA, EISA, WISC). Participant of various international research programmes organised i.a. by Vrije Universiteit Brussel (Institute of European Studies), Diplomatische Akademie Wien, Universität Wien, University of St. Andrews, Universität Bremen, Universitetet i Oslo. In 2016 awarded scholarship of Ministry of Science and Higher Education (Poland) for outstanding young scholars.
Research interests
European integration, European Union on the international arena, EU external relations, European Neighbourhood Policy.
Unit
Department of Diplomacy and International Institutions
Recent publications: 
P. Marcinkowska, The EU as a Global Player in Times of Crises – Challenges and Limitations, [w:] Global Politics in the 21st Century. Between Regional Cooperation and Conflict, (red.) A. Mania, M. Grabowski, T. Pugacewicz, Berlin, 2019, s. 257-272.
P. Marcinkowska, Problemy bezpieczeństwa w sąsiedztwie UE-implikacje dla Europejskiej Polityki Sąsiedztwa, [w:] Meandry współczesnego bezpieczeństwa. Między regionalizacją a globalizacją, (red.) A. Gruszczak, Kraków, 2018, s. 53-63.
P. Marcinkowska, Rola WPZiB w ramach stosunków zewnętrznych UE w kontekście polityki Unii wobec państw sąsiedzkich, [w:] Badanie polityki zagranicznej państwa. Wymiar europejski, (red.) M. Pietrasik, J. Ciesielska-Klikowska, S. Kosmynka, Warszawa, 2017, s. 171-186.