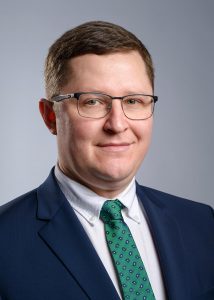 dr Kamil Mroczka –  Ph.D. in Social Sciences within the scope of Political Sciences (2014 – viva with distinction), a graduate of the Executive Master of Business Administration programme run by the International Management Center at the University of Warsaw (2017 – programme completed with distinction). Graduate of postgraduate studies in government and local government administration and public institution audit at the Institute of Political Sciences, University of Warsaw (2010).
Researcher and lecturer at the Faculty of Political Science and International Studies of the University of Warsaw. From 2015 to 2017, a researcher at the Witold Pilecki State Higher Vocational School in Oświęcim, including from 2016 to 2017 the Head of the Strategic Management and Finance Department at the Institute of Production Management and Engineering. From 2017 to 2019, Assistant Professor at the Centre for Local Government and Development Studies. Participant in national and international scientific and counselling support projects. Member of the expert team formed at the University of Ljubljana for the project "Support to Ukraine's 2016–2020 Public Administration Reform Strategy". Member of the Administration and Public Policy unit of the Polish Political Science Association (PTNP). Member of the programme and scientific board for "Bezpieczny Bank" (Safe Bank) magazine.
A long-time practitioner of administration and management in public administration, among others, as a Head of the Office of the Director General at the Ministry of Justice, Head of the Strategic Management Department at the Ministry of Finance and Head of the Administration Assessment Centre at the Chancellery of the Prime Minister. Currently employed as Director General at the Office of the Polish Financial Supervision Authority. Experienced in the operation of commercial law company bodies. Member of the Supervisory Board of Bank Gospodarstwa Krajowego from 2017 to 2019 and Chairman of the Supervisory Board of the Industrial Development Agency as of 2019. Chairman of the Commission that considers applications for permission to employ former civil servants acting under the authority of the Prime Minister.
PWC Expert in projects co-financed with European funds. Author of numerous expert opinions and analyses commissioned by the government administration. Expert in programme and project management. Certified PRINCE2 project manager.
Research interests
Public management, strategic management, programme and project management, human resource management, public administration in Poland and Europe, civil service and clerical pragmatics, internal security, crisis management, control and audit.
Unit
Department of State Sciences and Public Administration
Recent publications:
K. Mroczka, Zarządzenie zastępcze wojewody jako środek nadzoru nad samorządem terytorialnym umożliwiający wygaszanie mandatu w związku ze złamaniem ustawy antykorupcyjnej, "Przegląd Ustawodawstwa gospodarczego" 2021, nr 1, s. 40-48.
K. Mroczka, Ewolucja pozycji wojewody w systemie władzy politycznej w Polsce do 2009 roku, Warszawa 2020.
K. Mroczka, Komisja rozpatrująca wnioski o wyrażenie zgody na zatrudnienie osób, które pełniły funkcje publiczne – analiza instytucjonalno-prawna, "Przegląd Legislacyjny" 2020, nr 4(114), s. 31-64.