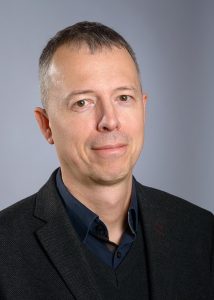 dr hab. Ryszard Szarfenberg, prof. ucz. – Ph.D. (2002) with habilitation (2009) in political science, profesor at the University of Warsaw since 2013. He served as Vice-Director of the Institution of Social Policy in 2008-2013, and in 2011-2019 he led the Social Assistance and Integration Office. He was also the research team leader in the "Tworzenie i rozwijanie standardów usług pomocy i integracji społecznej (zadanie 2)" project financed under the Human Capital Operational Programme (2010-2012), expert coordinator in "Społeczna Agencja najmu jako nowy instrument polityki mieszkaniowej" financed by the National Science Centre (2015-2017), and main contractor in "Koprodukcja usług społecznych na przykładzie polityki edukacji i pomocy społecznej w polsce po 1989 r. (SONATA 10)" financed by the National Science Centre (2016-2020). He is a reviewer for the International Journal of Social Welfare, and sits on the editorial board of the "Problemy Polityki Społecznej" journal (since 2009). He has been an expert in the European Social Policy Network (since 2018), served as President of the Executive Board of EAPN Poland (since 2011), representative of EAPN Poland in the EU Inclusion Strategies Group (since 2009), and representative thereof in the Interministerial Team for the Europe 2020 Strategy (since 2012).
Research interests
Theory and evaluation of social policy, theory of public policy, methodology in the social sciences, poverty, inequalities, social exclusion, precariat, homelessness, active social policy, social assistance, family benefits, evolution of the welfare state.
Unit
Department of Methodology of Political Science
Recent publications:
R. Szarfenberg, EU Social Inclusion Policy Implementation in Poland 1989–2018, [w:] EU Social Inclusion Policies in Post-Socialist Countries: Top-Down and Bottom-Up Perspectives on Implementation, (red.) I. Fylling, E. Loreni Baciu, J. P. Breimo, Abingdon, Oxon; New York, 2019, s. 116-140.
R. Szarfenberg, ESPN Thematic Report on National strategies to fight homelessness and housing exclusion – Poland, Brussels, 2019, s. 1-29.
R. Szarfenberg, Dochód podstawowy a współczesne zabezpieczenie społeczne, "Ubezpieczenie Społeczne. Teoria i Praktyka", 2018 nr 4, s. 1-25.