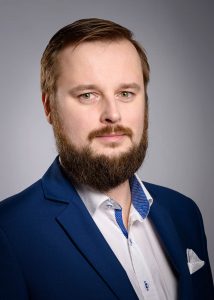 dr hab. Jarosław Szczepański – Ph.D. in law (2016), politics and administration (2019), habilitated doctor in politics and administration (2021), research and teaching associate at the Faculty of Political Science and International Studies of the University of Warsaw. Grant holder of Fulbright – Fulbright Slavic Award 2020. In 2016-2017, deputy dean for scientific affairs at the Department of National Security Department of the Academy of War Arts, from 2017 president of the board of the Institute for Political Science. Contractor in the research project "A means to an end. 16+1 formula as a mile stone to the New Silk Road" financed within "The IEEM Academic Research Grants". Vice-chairman of the partners council and contractor in the project "University of Warsaw for Juniors and Seniors," financed by the National Centre for Research and Development from European funds (PO WER). Member of the editorial board of the scientific journals "Przegląd Europejski [European Review]" and "Polish Journal of Political Science". EC and NCI expert in the field of project applications evaluation.
Research interests
Political system of the USA, axiological foundations of political systems, law of higher education, labour law.
Unit
Department of Political Systems
Recent publications:
J. Szczepański, Ideowe podstawy polskiego spektrum politycznego, Warszawa-Pułtusk, 2019.
J. Szczepański, Prawo pracy dla pracowników, Warszawa, 2019.
J. Szczepański, American Political Spectrum, "Polish Journal of Political Science", 2018 nr 4, s. 7-19.