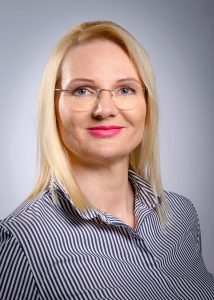 dr hab. Marta Witkowska – Doctor of Political Science (2002), Habilitation in the discipline of Political Science (2014), Assistant Professor, Head of the Department of European Law and Institutions (2015-2019), Plenipotentiary of the Rector for the International Parliamentary Internship Programme (2011-2019), Deputy Editor-in-Chief of the "European Review" (2017-present), Secretary of the Main Committee of the Olympiad of Knowledge about Poland and the Contemporary World (2005-2008), multiple scholarship holder of German and Austrian universities, contractor of the Jean Monnet Network "MoreEU – More Europe to Overcome the Crisis" (2016-2019, European Commission), European Commission Expert in Poland – member of Team Europe (2009-present), President of the Polish Society for European Studies Warsaw (2014-present), member of the Scientific Council of "The Review of European Affairs" (ISSN 2544-6703) (2014-present), Member of the Editorial Board of the journal "История, философия, экономика и право" (History, Philosophy, Economics and Law), (ISSN 2305-9583)(2017-present)
Research interests
Political participation in the European Union; practical aspects of European Union citizenship; EU decision-making mechanisms, European political parties; EU law and its application process in the Member States; EU policies and institutions; German political parties and the political systems of the German Länder.
Unit
Department of European Union Policies
Recent publications:
M. Witkowska, E. Kużelewska, R. Potorski, J. F. Czub, E. V. Kucheryavaya, S. Dłuski, Podmioty integracji europejskiej z perspektywy reformowania Unii Europejskiej, Warszawa, 2017.
M. Witkowska, Deliberation as a tool to find solutions to overcome the crisis in the European Union, "Przegląd Europejski", 2017 nr 1, s. 132-145.
M. Witkowska, The use of the concept of policy networks in the study of relations between national parliaments and the EU institutions, "Przegląd Europejski", 2016 nr 4, s. 56-73.