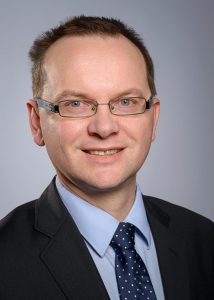 dr hab. Jacek Zaleśny – habilitated doctor of legal sciences in the field of constitutional law (2016), assistant professor. Head of an international research project entitled: Constitutional judiciary in post-Soviet states: between the model of the rule of law and its local application (National Science Centre, No. 2016/23/B/HS5/03648) and contractor of the research project: Accountability as a category of constitutional law (National Science Centre, No. 2018/29/B/HS5/01771). Contractor in the research program Jean Monnet Chair No. 575172 (Erasmus+) "Teaching the European Transnational Constitutionalism Inside and Outside the EU". Scientific secretary of "Political Studies," member of the Editorial Board of "Правова держава," "International Science Reviews. Social Sciences series," member of the Editorial Committee of the "Review of Constitutional Law," "Ius Novum". Member of the Polish Society of Political Sciences and the Polish Society of Constitutional Law. Author of numerous legal opinions. Chairman of the Disciplinary Committee for Academic Teachers of the University of Warsaw. He was awarded a medal: 20-летия Юридического факультета Евразийского национального университета им. Л. Н. Гумилева [20th anniversary of the Faculty of Law of the Eurasian National University], Nur-Sułtan, Kazachstan.
Research interests
Legal protection institutions; the political system of the Republic of Poland; EU legal protection institutions, correct legislation; political systems of post-soviet states, political transformation in post-soviet states
Unit
Department of Political Systems
Recent publications:
A. Młynarska-Sobaczewska, J. Zaleśny, Accountability as a Category of Constitutional Law – Terminological Considerations, «Comparative Law Review» 2020, vol. 26 (Scopus).
V. Goncharov, J. Zaleśny, S. Balashenko, G. Vasilevich, A. Pukhov, The Place of a Person in the Ontological Principles of Global Constitutionalism: Social and Philosophical Analysis, «Wisdom» 2020, vol. 2 (15) (Scopus).
Я. Залесны ((ред.) Конституционная юстиция в странах Восточной Европы: проблемы теории и практики, Издательство Норма, Москва 2019.