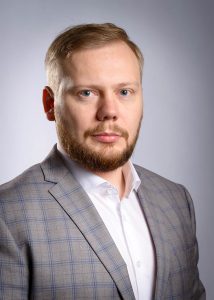 dr hab. Łukasz Zamęcki – Ph.D. in Political Sciences (2010), researcher and lecturer at the Faculty of Political Science and International Studies of the University of Warsaw. Dean's Plenipotentiary for the discipline of political science and administration. In 2016-2020, Vice-Dean of the Faculty of Scientific Research and International Relations of the University of Warsaw, formerly, inter alia, Deputy Director of the Institute of European Studies (2012-2016) and head of full-time first cycle studies and full-time MA studies at the Department of European Studies at the University of Warsaw (2010-2012). In 2013-2015, secretary of the Board of the Polish Society for European Studies. Since 2017, secretary of the management board of the Scientific Committee "Socio-political Pluralism" of the International Society for Political Sciences (IPSA). Head of several research projects, incl. "De-democratization at the times of Covid-19" (4EU+); "A means to an end. 16+1 formula as a mile stone to the New Silk Road" (The IEEM Academic Research Grants). Member of the editorial board of "Przegląd Europejski" [European Review]. Associate of Ministry of National Education and State Examination Committee. Tutor of a scientific student club, tutor of foreign students. In the years 2010-2019 he gave lectures, among others in Hong Kong, Macau, Chengdu, London, Nicosia, Tallinn, Sofia, Ottawa.
Research interests
Contentious politics, democratization, comparative politics, Hong Kong politics
Unit
Department of Political Systems
Recent publications:
Ł. Zamęcki, Hong Kong Youth Radicalization from the Perspective of Relative Deprivation, "Contemporary Chinese Political Economy and Strategic Relations: An International Journal", 2018 tom: 4, z. 2, s. 451-485.
Ł. Zamęcki, Rewolucja parasolkowa w Hongkongu. Przyczyny, przebieg, następstwa, Warszawa, 2018.
Ł. Zamęcki,  "Mainlandization" of Hong Kong, A Model of Influence, Resistance and Adjustment, "Revista UNISCI", Vol. 53, 2020