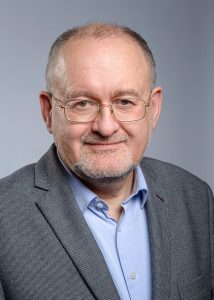 dr Tomasz Żukowski – doctor of humanities in the field of political science (1988). Manager and participant in research projects on elections, the value system of Poles (including their relationship with the heritage of John Paul II), and states of particular trauma in public life. Co-author of research on social organizations, public activity and social capital. Co-editor of an expert report on Polish foreign policy. Author and co-author of numerous announcements from demoscopic examinations. In 1998-2001, 2006-2007 and in 2016, a member of the scientific council of CBOS. Expert in election campaigns. He cooperated with the Civic Parliamentary Club, the Solidarity Electoral Action, the "Solidarity" National Commission and the Law and Justice Party [Polish: Prawo i Sprawiedliwość], as well as with the democratic parties of Ukraine. From 2008 to April 2010, he was an advisor to the President of the Republic of Poland, in 2015-2019 an advisor to the Marshal of the Republic of Poland.
Research interests
Contemporary Polish political scene and its sociocultural conditions, social and political history of the Third Polish Republic, contemporary Polish society, contemporary Polish political system.
Unit
Recent publications:
T. Żukowski, Wybory prezydenckie 1990, [w:] Atlas wyborczy Polski, (red.) M. Kowalski, P. Sleszyński, Warszawa, 2018.
T. Żukowski, Obywatele, partie i organizacje sfery publicznej w wyborach samorządowych 2010 r., "Społeczeństwo Obywatelskie. Badania. Praktyka. Polityka, Zeszyty Naukowe Zakładu Rozwoju Społeczeństwa Obywatelskiego IPS UW", 2015 rocznik 1, s. 32-57.
T. Żukowski, Długa wędrówka przez mgłę. Poglądy Polaków o katastrofie smoleńskiej, [w:] Katastrofa. Bilans dwóch lat, (red.) Jan F. Staniłko, Warszawa, 2012, s. 69-86.