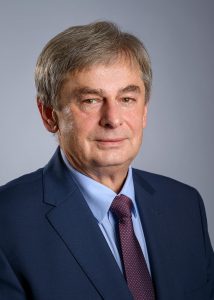 prof. dr hab. Bodio Tadeusz  – Professor in political sciences; Department's employee since 1975; vice-chairman of the Political Science Committee of the Polish Academy of Sciences; in the years 2000-2005 head of the Laboratory of Political Psychology; 2005-2019 – head of the Department of Eastern Research at the Institute of Political Sciences of the University of Warsaw; 2013-2019 – chairman of the Departmental Doctoral Committee team in the field of political sciences; in 2008-2011 member of the presidium and chairman of the Social Sciences Group of the State Accreditation Committee; 2020 – member of the Scientific Council of the International Asian Congress (Toruń), he lectured at foreign universities. Chairman of the Program Board of "New Eastern Policy," member of the scientific and editorial boards of "Polish Political Science Yearbook," "National Human Rights Centre of the Republic of Uzbekistan0", "Caaucasan Science Bridge," "Central European Political Studies," "Economic and Political Thought," "Civilization and Politics," and other periodicals. Since 1997 – head of the International Program "Transformation in Central Asian countries," since 2010 – "Transformation of the elite and political leadership in the Post-Soviet area" and other Editor of the edition series "Contemporary Central Asia" and "Power-elites-leadership," co-contractor of National Science Centre grants. In 2012 and 2017, awarded with awards of I-degree at the international competition for research of the Caucasus. Decorated with the "Danker" order for activities for the development of Polish-Kyrgyz relations in the field of science and culture; the Golden Cross of Merit and the National Education Committee Medal for achievements in the scientific and teaching field, Medal for the occasion of the 200 years of the University of Warsaw and others.
Research interests
Theory and methodology of political sciences; power, elites, leadership, systemic transformation, international relations in the Post-Soviet space.
Unit
Recent publications:
T. Bodio, Uzbekistan: A State Undergoing Total Reconstruction, "Polish Political Science Yearbook", Adam Marszałek, Toruń 2020, vol 49 (2), s. 11-40.
T. Bodio, A. Wierzbicki, Research on systemic transformation in the countries of Central Asia, "Polish Political Science Yearbook", Toruń 2020,vol 50 (3).
T. Bodio, J. Marszałek-Kawa, Z badań nad historią i współczesnością Rosji, Azji Centralnej i Kaukazu, Wydawnictwo Adam Marszałek, Toruń 2019.