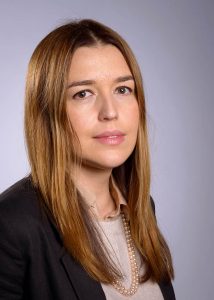 dr hab. Kamila Pronińska – Ph.D. in Political Sciences (2007), D.Sc. in Security Studies (2019), Assistant Professor. Winner of the Science and Higher Education Award for Outstanding Young Scientists (2013); winner of the Natolin European Centre Foundation competition, recipient of the I.J. Paderewski grant for "The impact of energy cooperation of Central European countries on the regional energy security and energy policy of the EU" carried out at the European University Institute (2012); expert on energy security at the Chancellery of the President of the Republic of Poland, Presidential Expert Programme (2015); expert on energy security within the Energy Security and Climate Policy Programme of the Centre for Political Analysis of the University of Warsaw (2014–2016). Academic trainer (e.g. in Tampere, Skopje), lecturer and speaker at foreign universities, e.g. Oxford, Copenhagen, Magdeburg, Jena, Grenada, Madrid and Barcelona. Participant in international projects funded, e.g. by SIPRI or NATO (such as Advanced Research Workshops on Energy Security).
Unit
Department of Strategic Studies and International Security
Recent publications:
K. Pronińska, Energia i klimat – współczesne trendy i wyzwania bezpieczeństwa energetycznego, "Rocznik Strategiczny 2018/19", 2019 nr 24, s. 144-160.
K. Pronińska, Konflikty w Afryce i Jemenie w 2018 r. – ekspansja dżihadystów a wzrost intensywności i umiędzynarodowienia, "Rocznik Strategiczny 2018/19", 2019 nr 24, s. 129-143.
K. Pronińska, Rozwój odnawialnych źródeł energii a wymiar geostrategiczny bezpieczeństwa energetycznego Unii Europejskiej, "Stosunki Międzynarodowe – International Relations", 2017 nr 2 (53), s. 73-91.