On December 16 and 17, 2021, the international scientific conferenceV4 – Past. Present. Future was held at our Faculty, which was also a commemoration of the 30th anniversary of the Visegrad Group uniting the countries of Central Europe: Poland, Czech Republic, Hungary and Slovakia.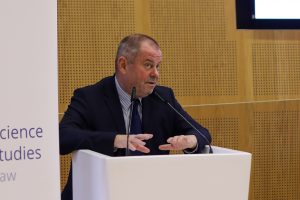 Nearly 100 researchers from the region came to the Auditorium Building. Participants took part in a total of 16 thematic panels and 3 plenary sessions. During the conference, issues related to, among others, with the party systems of the V4 countries, international relations, the role of the V4 countries in the European Union and the consequences of the COVID-19 pandemic has been discussed.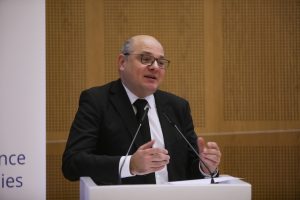 The conference was graced by, among others lecture by keynote speaker Marianna Neupauerova (Visegrad Fund), discussion panel with the Ambassadors of the Group and an opening speech of the Rector of the University of Warsaw, Alojzy Nowak.
The partners of the event were:
– Faculty of International Relations, University of Economic, Bratislava
– Faculty of Social Sciences, Charles University
– Department of Political Studies, Charles University
– Department of International Relations, Corvinus University of Budapest
– Department of Political Science and International Relations, University of Pecs
The scientific committee of the conference was composed of: chairman dr hab. Daniel Przastek, dr Agnieszka Bejma, dr Małgorzata Kaczorowska, dr hab. Marek Madej, dr hab. Renata Mieństwoska, dr hab. Joanna Starzyk-Sulejewska, dr hab. Jakub Zajączkowski and dr hab. Łukasz Zamęcki.