On 2nd December 2022 we finally opened WNPiSM Student's Club! The ceremony were held in a localization of a Club – Nowy Świat 67 Street, on level -1.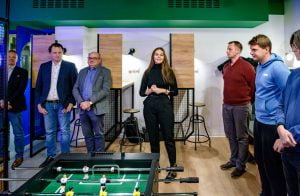 Our special guest was Vice-Rector for Students and Quality of Teaching – Prof. Sławomir Żółtek. Apart from him, we also heard a word from our Dean – Prof. Daniel Przastek and Vice Dean for Students Affairs – Prof. Maciej Raś. They all agreed that Student's Club is indeed a very unique place and they all thanked our administritive workes without whom creation of this place could not happen. A small speech was also delievered by Justyna Smoleń – Head of Students' Union. As a representative of all students she thanked everyone for creating this place. After more official part of the event we could finally see a glowing neon with a logo of our Faculty representing that Student's Club is finally open.
Student's Club opens a variety of possibilities for our students. Apart from being a place to study and meet with other students, you can also prepare or heat up a meal using microwaves and kettles that are here for you. Students can also use individual and group workstations, comfortable couches and for some fun – a foosball table.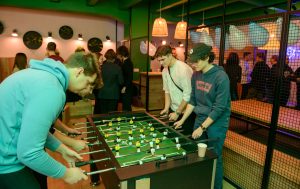 We kindly encourage you to visit a new place that was created for all of you.