On 12th of December 2022 on our Faculty we held an Ukrainian Day. The event was divided into three sections, all of them were attended by students and professors from our Faculty and University and also representatives of Ukrainian universities.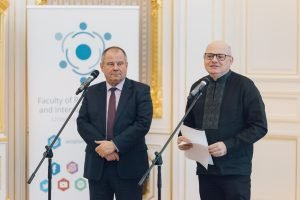 The main event of the day was signing the memorandum of understanding between University of Warsaw, Ukrainian universities and Victoria University of Wellington. The ceremony was held at 10 am in Golden Room of Pałac Kazimierzowski (Rector's Building). Among those present were Prof. Alojzy Nowak, Rector of the University of Warsaw, our Faculty's Dean – Prof. Daniel Przastek, representatives of embassies – Tom Fitzsimons (Deputy Head of Mission – New Zealand Embassy in Warsaw) and Grzegorz Kowal (Poland's Ambassador in New Zealand) and delegations from Ukrainian Universities:
Prof. Volodymyr Lavrynenko from National Pedagogical Dragomanov University in Kyiv,
Prof. Markiyan Malskyy from Ivan Franko National University of Lviv,
Prof. Oleksand Demianchuk from National University of "Kyiv-Mohyla Academy".
After signing the official documents we heard brief comments from: First Secretary of the Embassy of Ukraine in the Republic of Poland Vitalii Bilyi, representatives of Ukrainian universities and authorities of University of Warsaw.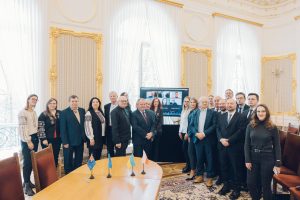 The second part of the event was seminar titled Russian Aggression against Ukraine: Implications for Ukraine and Central Europe, which was held in Baszkiewicz's Aula and was attended by students and professors of our Faculty. The seminar was chaired by prof. Markiyan Malskyy, and the speakers were:
Prof. Oksana Krayevska from Ivan Franko Lviv National University,
Dr Olesia Benchak from Uzhhorod National University,
Prof. Olha Balatska from National University of Ostroh Academy,
Prof. Oleksandr Demianchuk from National University of "Kyiv-Mohyla Academy",
Prof. Volodymyr Yevtukh from National Pedagogical Dragomanov University.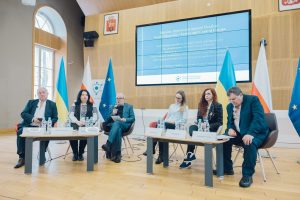 After the seminar and discussion with professors and students of our Faculty everyone watched a performance of a Ukrainian musician – Romario Punch.
Ukrainian Day ended with a meeting with delegations of fourteen Ukrainian Universities. Some of them were present on our Faculty and some of them joined us on a Zoom call.
We kindly thank every present delegation, students and professors, who were with us during this extraordinary day. We hope that a Ukrainian Day organised at our Faculty will be a precursor of an amazing cooperation with Ukrainian universitites and authorities.
Слава Україні!