On 3 September this year, delegation of the Faculty consisting of: dr hab. Daniel Przastek, Dean of the Faculty, dr hab. Joanna Starzyk-Sulejewska, Vice-Dean of the Faculty for Scientific Research and dr hab. Jakub Zajączkowski, the Dean's representative for international research projects and international cooperation, visited the seat of Asia & Pacific Society in Toruń. During the meeting, the agreement was signed on the co-organization by the Faculty together with the Society of the VIII International Asian Congress. The agreement was signed by the Dean of the Faculty of Political Science and International Studies, dr hab. Daniel Przastek and the President of the Society, Dr. Adam Marszałek. The meeting during which the cooperation was discussed was also attended by: prof. Joanna Marszałek-Kawa, editor-in-chief of the Polish Political Science Yearbook, director of Adam Marszałek Publishing House, mgr Iwona Nadolska-Bartosiak and the secretary of the Congress and the Polish Political Science Yearbook, Dr. Bartosz Płotka.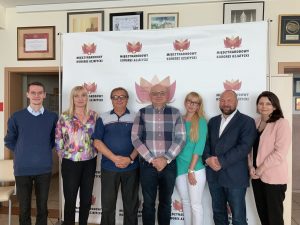 The VIII International Asian Congress will be held on 22-24 September this year. During the Congress, the "the UW Week with the Asian Congress" will be organized, during which national and international panels will be held, organized by the Faculty staff.
Each year, the Congress is attended by dozens of active diplomats, including those in the rank of ambassador, representatives of states and local authorities as well as several hundred participants from various research centres around the world. The Congress, which has several years of tradition, is currently the largest event in Europe dedicated to Asian issues.