On 22nd and 23rd of September 2022 a series of lectures was held in the Centre for European Studies, School Of International Studies, Jawahalal Nehru University (JNU) in New Delhi.
Lectures were held because of a project called Eurasian Insights: Strengthening Indo-Pacific Studies (EISIPS), which is coordinated by Dr Barbara Kratiuk.
Lectures were held by Dr Aleksandra Jaskólska, Ambassador Tomasz Łukaszuk, Dr Karina Jędrzejowska, Dr Anna Wróbel, Dr Barbara Kratiuk from WNPiSM UW  and Professor Przemysław Osiewicz and Dr Rafał Wiśniewski from UAM in Poznań. Over 30 students of JNU were guests during lecutres.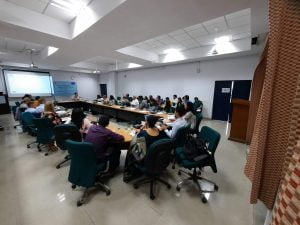 Delegation met a rector of Jawahalal Nehru University, Professor Santishree D. Pandit, Polish Ambassador in India, dr hab. Adam Burakowski and Dean of School of International Studies JNU Professor Srikanth Kondapalli.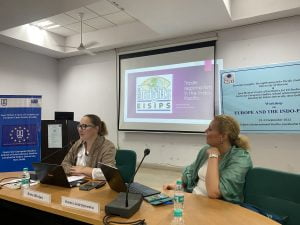 Delegation also met with various Professors from School of International Studies, for example Gulshan Sachdeva (coordinator of EISIPS from JNU), Bhaswati Sarkar, Shankari Sundararaman, Jayati Srivastava, Jittendra Uttam.