On the 30th of September 2022 we oficially started new academic year 2022/2023 during the Inauguration Ceremony. It was holded for students of full-time programmes, exchange students and Indonesian students who are visiting our faculty from IISMA programme.
The inauguration started by speech by our Dean, Prof. Daniel Przastek, who kindly welcomed all the new students at our Faculty. The next to spoke was Prof. Maciej Raś – Vice Dean for Students Affairs and Prof. Dominikia Milczarek-Andrzejewska from Faculty of Economics. With this faculty we cooperate in creating of our majors – European Politics and Economics.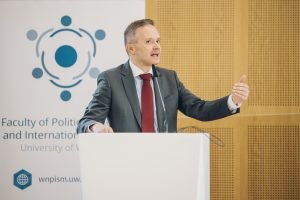 One of the important parts of the inauguration were speeches by Heads of Programmes – dr hab. Dorota Heidrich, dr Jadwiga Nadolska and dr hab. Vadym Zheltovskyy. The ceremony was carried out by dr Aleksandra Jarczewska.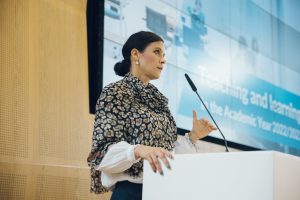 Apart from faculty representatives representatives of the Students Union also took the floor. We kindly thank everyone who attended our ceremony.